The Town of Czerwin, Poland
Coming into Czerwin, Poland. Photo from Stew Cherlin, source unknown.
---
From the 1929 Polish Business Directory, pages 113-114: listing of businesses in the town of Czerwin.
Translation:
Town and commune (including Grodzisk, Jarnuty, Laski Koscelelno). District of Ostrolenka, justice of the peace, tribune of the district of Lomza, 362 residents. Train (7 km) Gucin; [various services, catholic church]. Cattle fairs 8 times per year. Mills, distilleries.
Freeholders: Andlauer Wawel (Grodzisk 1131); Chelslowski Kalikst (Laski Szlacheckie 96); Marchwieki Stanislaw (Brzezno 1086); Mierzcejewski Wladislaw (Gzamrowina 75); Modzelawski Stanislaw (Soreczyn 40); Opochowski Francizek (Soreczyn 52); Rudnicki T. (450); Rutkowski Bronislaw (Buczyn 100); Zslogowski Stanislaw (Dzwonok 101).
Midwife: Koszork
Pharmacy: Kotomyjski Z., Neuberg S.
Barber/surgeons: Pacewicz L.
Distillers: Andlauer W. (G.)
Grocers: Borgazyn D.; Blumsztejn Sz.; Burszhtyn S.; Kalina I.; Kaminski F (J.)
Cooperatives: Spoldzielczo Stow. Spoz.
Smiths: Szymanski
Tailors: Frydman B.
Millers:Mahnowski L (water) (G.); Szafran A. (powered)
Masons:Kowalewski A.
Oils: Chaginski
Bakers:Berliner I., Malor M., Wiater Ch.
Restaurants: Andrzejczyk J.
Butchers: Krukowski W.
Foodstuffs: Kodzierski S. (L. K.)
Cobblers: Nagorny Sz.
Windmills: Brejer E. (L. K.); Laszcznkski P.; Murawski P. (L. K.); Okuniewski L.; Wachuta St. (L. K.)
Ironware: Margulis M.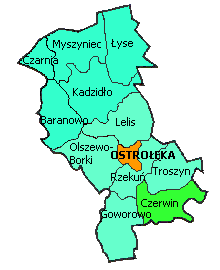 Ostrolenka Province
The population of the Czerwin district in 2004 is given as 5520.
---

The Family Name.